Intern Assesses Basic Preparation Course
May 31, 2010
Interviews with the Graduates of the Faith Community Nurse Basic Preparation Course
Spring 2010 Internship: Rebekah Kneifel
Introduction
Health Ministries has recently held a training for a group of people who are interested in the combination of Spirituality and healing. The majority of the attendants were Nurses who belong to churches and attend in hopes of becoming Faith Community Nurses. One student was not a Nurse thus attending for the title of a Health Minister. The position of a Faith Community Nurse or Health Minister is mostly spent as volunteer time. My particular interest was in the motivation behind these people volunteering their time for such straining, emotional, time consuming work. Along with my research of intrigue I asked questions of them in regards to their expectations of the course, how they originally found out about it, if the course met their expectations and what Health Ministries could do directly after the training in support of jumpstarting their new roles as Faith Community Nurses or Health Ministers.
Impacting Charts from Questionnaire 1
Question 1 b. What motivated you to enroll in the training course?
Motive to Take Course
N=8
"I wanted to learn how to serve my community and church family by caring for their physical & spiritual needs."
"For the past 4-5 years, I have felt called to this ministry, so see this as a step toward fulfilling that calling."
"I prayed about it & asked my prayer group also to ask for guidance. As I investigated FCN I found myself becoming enthusiastic about this way to serve God in our Parish."
Question 2 Are there any personal reasons for your involvement as a Faith Community Nurse that you wish to share?
Reason for Involvement
N=14
"I spent many years as an ICU/Trauma nurse before coming to Hospice. Many times I questioned my own participation in keeping people alive on life support. I wanted to take this training to have a more holistic approach to nursing."
"My motivation is my desire to share my nursing skills with my church."
"My faith is very important to me. It sustains me in my work as a nurse, as I struggle with the complexities of public & global health."
"I strongly believe in "holistic" health approach. I also want to explore my own spiritual journey & I believe God directed me to this path."
Pie Charts from Questionnaire 2
Question 1: Have your motivations behind becoming an FCN/Health Minister changed since you've taken this course?
N=12
Question 2: What do you plan to do with the tools you've just received from this training?
N=15
Question 3: What, in your opinion, will be the most difficult aspect of establishing yourself as an FCN or Health Minister?
N=13
Question 4: Now that you are finished with your training, what support would you like from Health Ministries?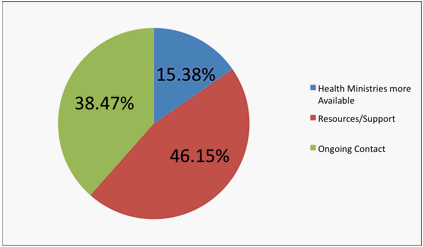 N=13
Question 5: Is there anything else you would like to convey about your experience participating in this training?
N=12
Conclusion
After analyzing the students' responses to the first questionnaire, it became evident that most of their motivation came from the desire to help their congregation by combining Spirituality with physical healing. Reading through the answers the students indicated that in their community, treating patients with Spiritual healing is just as important as healing patients with physical treatments. With this insight as well as the background knowledge that a church congregation is a Spiritual family, the motivation to become a Faith Community Nurse or Health Minister is obvious.
The second questionnaire asked more about anxieties and solutions to those anxieties that Health Ministries can provide. Many of the students were most worried about getting established and receiving approval/acceptance by their congregation in their new title. The support Health Ministries can provide is a constant presence so that FCN/HM's can turn to them with immediate questions/concerns. They also requested group meetings every once in awhile to network with the other FCN/HM's in their community.
The responses to the second questionnaire were glittered with praise on how amazing and professional the training was:
"Totally awesome. All the presentations were fantastic, would encourage others to take the class."
"I have really enjoyed the training and now feel like I have a peer group of Parish Nurses on whom I can call for support."
"It was a delightful training- filled with information and resources but meeting all the presenters was inspiring and encouraging- blessings on each one!"
"The amount of time and skill Jeanne and Dotty put into this program is overwhelming. They are amazing nurses and people."
"Wonderful to get to know other class members and hear about the variety of settings in which they will practice."
"I feel very grateful for the opportunity!"
"Appreciated all the handouts, 3-ring notebook and community resource speakers who came to share information."
"This was a great opportunity and wonderful to meet all these special women."